I walked into a co-worker's office the other day and was curious to see a package of colored pencils on her side desk.  I was amazed to see the beautiful array of hues in the package – there must have been at least 36 different colors!  It reminded me of how fun it was as a child to get a new box of crayons to begin the school year.  The big box of 64 crayons, or however many were in that box, was an extra special treat.  Remember how besides the primary colors, there were crayons called Carnation Pink, Cerulean or Scarlet, along with Blue Green, Green Yellow, and Violet Red?  Oh, the possibilities for creating colorful pictures!
My friend, Lisa, had ordered the pencils I saw on her desk online, and had just received them.  I immediately exclaimed over the wonderful pencils, so we chatted about them for a minute.  Her intent is to also order some coloring pages (or maybe she already has) and to create pictures using the pencils as a way to relieve stress, relax and create something beautiful.  It isn't that she is an artist; she just wants to enjoy coloring again.
I can understand Lisa's excitement about receiving the pencils and the coloring pages, as I have gotten hooked on coloring mandalas in the past few years.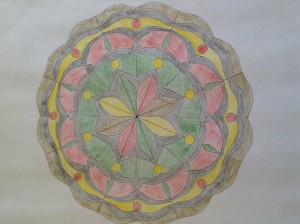 Mandala is a Sanskrit word meaning center, circumference or magic circle.  Mandalas are indeed, always circular in shape, and then have a design – some simple, some quite complex – within the circle.  The designs beg for use of multiple colors to complete them.  I enjoy considering just what colors I should put together, and how to space or repeat the colors in the design.
I use coloring mandalas for relaxation…and sometimes, to entertain my grandsons.
Just last week I spent the day with Jack and Max and my daughter, Amy.  Amy had a couple of errands to run so the boys and I had some time to kill while we waited her return when we would all leave to go to a movie.  One of the boys pulled out their box of crayons and colored pencils and again, seeing an array of colorful pencils delighted me.
"Let's color mandalas," I suggested.
It's very easy to Google mandalas and find free printable pages of them – and, in fact, some specifically meant for children that have less complex designs.  So, we printed off three different designs and spent the next 45 minutes or so coloring!  When Maxie finished working on his printed mandala, he drew another one free-hand that he proceeded to color.  Actually, so did I though I cheated and traced a glass to get a nice round circle, before adding my own custom design to the inside.
I have a book called Creating Mandalas by Susanne F. Fincher, that I purchased soon after I was introduced to this concept at a silent prayer retreat I was attending. 
The author explains the history of mandalas and how various people use them (e.g., insight, healing, self-expression).  In Eastern religions like Hinduism and Buddhism they are used as an aid to meditation.
Ms. Fincher's book is fun because she goes into detail about what various colors, numbers and forms one includes in their mandala design, may mean.  I find myself using the color yellow often when I work on my mandalas.  Fincher says using yellow  "reveals the capacity for consciousness," or "may reveal a readiness to learn, the dawning of awareness about something, or a willingness to own your unique point of view".  I just happen to like yellow because it reminds me of the sun and I love bright, cheerful colors.  Fincher also has theories about what it means to put different colors together when coloring or designing a mandala.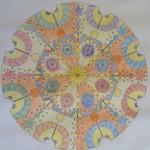 In essence, if I were to create my own mandala rather than using one someone else designed, I could psycho-analyze what my work was saying about me.  I don't really get into the analysis of my coloring that deeply other than to occasionally see what the colors I used on any specific piece may be saying about my state of mind on that particular day…bored, depressed, happy, excited, etc., etc., etc.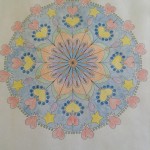 Mostly, I just use the mandala as a tool to allow me the opportunity to utilize all the brightly colored pencils!  I am no artist, but coloring allows me to be creative and it is very calming.
I would encourage you to get out the crayons or colored pencils, markers, whatever – buy some if you don't have any, and color like you did as a kid.
IT'S GREAT FUN!!