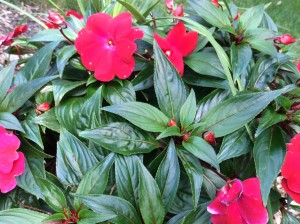 I do believe in the thought my title above conveys.
BUT, several weeks ago as I sat at my grandson's 5th grade graduation (moving-on ceremony), a baby was crying behind me.  It irritated me as the noise was very distracting to hearing the people at the podium saying wonderful things about the 5th graders.
A baby bothering me!  What is wrong with me?!
Actually, my irritation was directed more at the parent of the baby than the child – why didn't he (the parent) take the baby and leave the room so as to not bother those sitting around him?
I know the answer – because his other child was one of the 5th graders being recognized and he didn't  want to miss this special lifetime event.  That's reasonable!
Oh, and I might add to this story, there was a toddler sitting with his mother in front of me with two celebratory balloons, waving them at just the right level to block my view of the stage – another irritation!  Again I thought, why is that mom so oblivious that her balloons are blocking the view of those seated behind her son and her?
At the beginning of the year I designated acceptance as my word of the year – the word I would think of to direct my behavior in my encounters with all people.  The word reminding me compassionate and loving actions are always the appropriate choices to make.  BUT, the story above shows how quickly I abandoned those tactics!
I'm not proud of my attitude that day at the graduation ceremony.  I don't think there is any reasonable thing I could have done to change the situation; but, in the long run it wasn't that big of a deal.  I was able to hear and see the entire program.  I could have portrayed myself as a much better person though if I had smiled throughout the activities instead of periodically glaring at the parent with the crying baby behind me.  That did no one any good!
I'm going to keep working on having an attitude of acceptance in my everyday life.  Greeting and meeting people with a smile instead of a sneer can be a small step in making the world a better place.  (I might add, I need to remember this when I encounter what I consider to be bad drivers on the roads.  I'm not saying I suffer from road rage, but it is not uncommon for me to utter expletives when someone cuts me off or tailgates me.)
There, that is my confession for today.  I hope writing this and sharing it with you will help me get back on the right path!  I have previously quoted the lyrics of an old Dionne Warwick song which again, seem appropriate here – "what the world needs now is love, sweet love!"  Oh brother, and how!!