I love watching movies.  Now that I am only working (outside the home, as they say) part-time and have more free time, I have even ventured into the theater by myself to see a matinee, and find I am very comfortable being alone that way.  Regretfully, I'm not very excited about much of what is offered in theaters these days.  I've tried online Netflix and

wasn't too impressed with their movie options; plus, I don't like paying the monthly fee since I already pay a Direct TV bill each month.  Going to the Red Box to find a movie is too inconvenient on the spur of the moment.  So, most often, I turn to the TV for my movie watching.
For the most part, I don't have regular TV programs that I watch.  OK, I do tune in to Downton Abbey, Dancing with the Stars if I recognize the celebrities that are competing, and I can't even tell you how many times I have seen each Friends episode on late night TV (is 10:00 PM late?).  But, I confess I do turn on Direct TV to find a movie to watch when I want to do something mindless.  Most of the time, I can discover something that will entertain me – never mind it is usually a movie I have already seen – more than once – sometimes to the point of being able to recite some of the dialogue right along with the film.  I have a friend (and maybe some of you agree) who thinks it is a ridiculous waste of time to watch a movie more than once.  I happen to disagree.  Apparently, the cable/satellite TV personnel also think we can be entertained over and over by the same movie – every few months they seem to air repeat movies.
My personal preferences for movies are romantic comedies – think Meg Ryan, Tom Hanks, Sandra Bullock, Julia Roberts, Cameron Diaz, Diane Lane movies.  I feel like I've hit the jackpot when I do happen to find something I haven't already seen.  But, as I said, I'm not adverse to re-watching something.  I enjoy watching movies for the diversion they provide from worries, responsibilities or the drudgery of housework.  Sometimes I turn something on to entertain me while I make a meal, dust or clean bathrooms.  (I move quickly during the commercials!)
While watching movies, I can fantasize about different life styles.  Never mind most of movie content probably isn't realistic, but it provides a good escape.  Who isn't in love with the beach house in the Diane Keaton movie, Something's Gotta Give, or Ms Keaton's wardrobe in that movie?  Some movies offer spectacular scenery of parts of the country or world I may never see or that I can't visit very often.  A couple of evenings ago, I stumbled on and watched The Horse Whisperer – Robert Redford, Kristin Scott Thomas, and a young Scarlett Johansson.  The Montana scenery was breathtaking.  It's been said that laughter is really good for us – some movies can provide me with a good belly laugh.  Some movies make me cry, and who doesn't need a good cry once in awhile?!
Every now and then, dialogue from some movie can come in handy in every day life – "Anyone, anyone?" from Ferris Bueller's Day Off; "Dong, Grandpa is talking to you!" from 16 Candles; "Thirsty, kids?" uttered by Chevy Chase in Vacation.  My husband recited that last line to me just last night when I mentioned I was thirsty.
I am rambling here.  I could go on and on naming the many movies I love, my favorite actors, favorite scenes or favorite lines I remember.  Guess I just want to encourage and endorse watching those movies you enjoy more than once.  There's nothing wrong with a little mindless entertainment now and then!
Two of my favorites –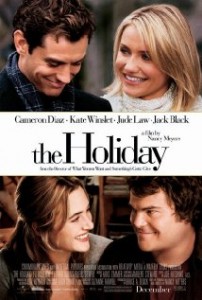 Leave me a comment here if you have a favorite movie you watch over and over; or, if you have a great movie line you like to recite.  I'd love to hear from you.