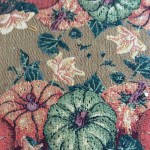 This is a mildly ridiculous topic for me to be writing about at this point since I have been retired for nearly two years.  However, I think I am still in a period of adjustment as I find myself wondering what I am supposed to be doing with the rest of my life!
I will say, I love my mornings now – without having to get up terribly early, I can take time to do some meditating, reading and writing before I even have breakfast.  My reading at this time of the day consists of what I guess you would call self-help type books.  Material that hopefully inspires me to be a better person, be better at something, make the world a better place, take better care of myself, etc., etc.  (Notice my quest for better!)
Currently, I am reading a Julia Cameron book, Walking in This World – The Practical Art of Creativity.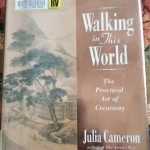 Cameron's main goal in her book is to help people realize their human potential…it is a course in creative discovery.  I am finding this book thought provoking, and I especially appreciate the exercises she suggests at the end of each chapter.
Since I have been pondering how I am to spend my days now that I don't have to work a 9 to 5 job, the section entitled Art is Therapeutic, Not Therapy which I read yesterday, seemed to be written just for me.  The theory Ms. Cameron outlines here is that one could work with a therapist to find answers/solutions/understanding to a problem, but "art" as she calls it is much more active (as opposed to reactive).  Therapy helps us adjust to the world; "art adjusts the world itself."  Or, rather than therapy showing us how to accept our feelings, "art teaches us to express how we feel and alchemize it."  Just for a clearer understanding, (for me, if no one else) since the book is about being creative, I think the word, creativity, can be substituted for the word, art, here.
The exercise proposed at the end of this section was to take a stack of magazines with pictures and cut out ones that seem to deal with an issue upon which you are ruminating…a situation you would like to understand more fully.  In my case, what do I do now that I am retired?  Then, make a collage of the pictures and write about what you learned from this process. Cameron indicates the discovery can be telling and may be surprising…"a holistic sense of healing may emerge."
So, this morning, I took my stack of magazines and paged through them looking for pictures that depicted scenes I could relate to.  I found pics of girlfriends laughing and sharing conversation, pics of grandparents spending time with their grandkids, pics of people enjoying solitude and nature, pics of people working in their garden, pics of people engaged in exercise.
Surprise!  These are all things I am doing.
Maybe I know what I am supposed to be doing in retirement, after all – enjoying my life!  So, I need to stop fretting about it.
Maybe you're not retired, and/or you're not wondering what to do with your life; but, perhaps you are facing a situation you would like to understand more fully.  I'd encourage you to give this little exercise a try.  Like me, maybe you will be affirmed that you are on the correct path; or, maybe you will discover a new way of approaching something in your life.
I feel like I have just delivered a book report here – and, probably not a very good one in terms of letting you know about the book I'm reading.  If you're interested, I would suggest you get the book yourself.  It is available in the library.  My objective was to tell you about one of the exercises suggested in the book and how affirming the results were for me, hoping if you were so inclined to try it you may also find positive results.
I always love to have feedback so feel free to let me know what you think of this exercise.  You can leave comments in the section below.