This morning I threw a COLOSSAL hissy fit.  The trigger site was my laundry area in our unfinished basement.  I pulled bed sheets out of the dryer, turned around and put them on the ironing board so as to reload the dryer from the washer.  When I then pulled the sheets off the ironing board to carry them upstairs to my bedroom, I also knocked the iron off the board and watched in horror as it clattered to the cement floor.  They must make irons durable enough to handle such a jolt as the only thing that I could see happened to it was the dial for choosing the heat level came off.  I was able to easily replace it – no harm done.  (I have not yet plugged the iron in to see if it still works, however.)
BUT, in the seconds during and after this mishap, I erupted in a tantrum.  How could I be so clumsy and careless??  Fortunately, I was home alone so no one heard my expletives or my cry, "I hate my OLD self (that's old age, not former self).  I hate the way I look.  I hate the way I feel.  I hate the way I act."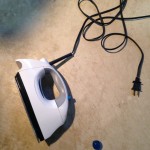 Wow, what's left to like??  And, how do any of these feelings relate to dropping an iron?  I stormed up the steps and began to cool down – realizing how pathetic my outburst was (not that at that moment it wasn't exactly how I felt.)  I knew that I had to calm down.
Obviously, I was in a funk today that was just ignited by the iron incident.  I needed an attitude adjustment.
Interestingly enough, just yesterday during a discussion with RC about an acquaintance who is struggling, I uttered the suggestion that this person should just "pull himself up by his bootstraps!"
Just what I needed to do this morning; yet, realistically, I do know that is not always easy to accomplish.
After calming down and reflecting on the outburst.  I thought about how easy it must be for older adults like myself, to turn to alcohol or other mood enhancing drugs to help them cope.  When I googled alcoholism amongst retired people, a whole slew of articles popped up.  So, apparently, this is indeed a problem in my age group.
Before I go any further, I will assure you I'm not considering drinking any more in a day than the glass of wine (ok, sometimes, two glasses) I enjoy fairly frequently as I watch the evening news or prepare dinner.  But, I can see how persons feeling inadequate or depressed or just generally down on themselves might turn to drinking thinking it could be a solution to masking negative thoughts they may have.
As I read some of the articles Google referenced, I gleaned the following reasons older/retired folks might turn to drinking –
to counteract feelings about the elimination of work structure

loss of status
loss of employment based social support
loss of life purpose

to cheer oneself up
to combat loneliness
to counter boredom
to fill newfound leisure time
to assuage grief – loss of spouse, friends
to overcome negative thoughts about the loss of youth – MY BIG GRIPE!
Of course, the articles I read also noted why excessive drinking was not a good solution for elderly folks –
interference with meds
potential for causing liver disease, high blood pressure, heart attack, some forms of cancer
propensity for accidents – falls, etc.
increased sensitivity to the effects of alcohol due to problems metabolizing it
Logically, there should be ways to overcome all the issues that may cause an older person to turn to drinking.  In some cases, however, I realize this is easier said than done.
In my case, I will overcome my hate for the loss of my youthful self (see 2nd paragraph above) by –
MOST IMPORTANTLY, continually reminding myself of all I have to be grateful for
looking for meaningful ways to stay busy with fun outings/activities, volunteer opportunities, get-togethers with friends
engaging in hobbies like reading, crossword puzzles, gardening
and, how about hanging out with young people – grandkids for instance?!
I hope you realize I use this blog space to lecture myself and give myself a kick in the pants.  If it provides you with any inspiration, that's a plus for me.
P.S. I am embarrassed to share my outburst about the iron mishap.  It was totally ridiculous!