During the past several months I have been creating my own personal space in what we have been calling "the boys' room".  In the room is a trundle bed that the grandsons sleep in when they spend the night.  We also have kept their books and toys in this room.  As the boys have gotten older, their toys have changed from trucks, Fisher Price farms, and wooden blocks to electronic devices; so, less space is needed for their things, leaving more space for mine!
The toy cupboard was replaced with a small desk.  It holds some of my toys – like my coloring book and colored pencils. The rocking chair is still in the room, but now is surrounded by my books and writing tools.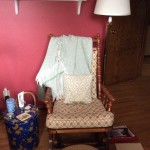 I'm using an empty popcorn tin, originally received as a Christmas gift, as a side table.  It houses some of my personal stuff like lip gloss, hand lotion, and a coaster for my cup of tea or glass of wine.  A bulletin board hung above my desk is the latest addition to what I now think of as my room.
(Side note:  the beds are still in the room so Jack and Max can come and stay overnight at Grammy's house.  So far, they are still willing to do that once in awhile.)
Those of you living in larger homes probably have had a space you call your own all along.  I live in a very small house so this is a new concept for me.  RC has his own TV room, but I rarely go in there to sit as he has paper messes everywhere – envelopes, catalogs, notes, magazines that he will "someday" get around to reading.  My room is just my own messes and they are a bit more orderly (at least in my mind).  And, besides, RC should have his own personal space also.
I have read or heard more than once it's beneficial for a person's mental health to have a space that is designated as their own.  A place to go to be alone – contemplate, pray, read, nap, write, create.  A place where one can just "be" and not have to be "doing" unless it is doing something that is rejuvenating.  A place where one can find comfort and lighten up a bit.
You don't need much room to create a personal space.  If you're fortunate to have an extra room you can seize for your own, you can go all out in decorating it and furnishing it with things you love.  But, if you don't have the luxury of that much space, any nook or cranny can suffice to work as your spot.  Think of a cozy corner in your bedroom, kitchen or even your basement, if need be.  Surround yourself with things that make you smile, inspire you, or comfort you.
Here are some ideas for your hideaway (adapt as space allows) –
a comfortable chair for reading or napping
a small table beside your chair to hold a cup of tea or glass of wine, a vase of flowers or a green plant, a candle
an afghan or quilt to keep you warm (remember the body cools down as you relax)
a small desk (

not

the one that houses all your bills and important paperwork –

you're goal here is to get away from your responsibilities

)
an iPod or CD player to listen to your favorite music
a bulletin board for inspirational clippings, stickers, cards, souvenirs
framed pictures of loved ones or pets, etc.
a clock – I have a small pendulum clock in my space because I find the ticking sound very soothing.
at the very least, capture a shelf somewhere to hold things that are special for you; take a moment each day to look at the items and reflect on why they are important to you
I hope you all have the opportunity to take a little time each day for yourself – to relax and just be.  Don't be afraid to tell family members they are not allowed in your space unless invited; and, to leave you alone for a few minutes.  Personally, I like alone time surrounded by some of my favorite things.  I highly recommend you treat yourself likewise.
I'd love to hear your ideas for creating a space all your own.